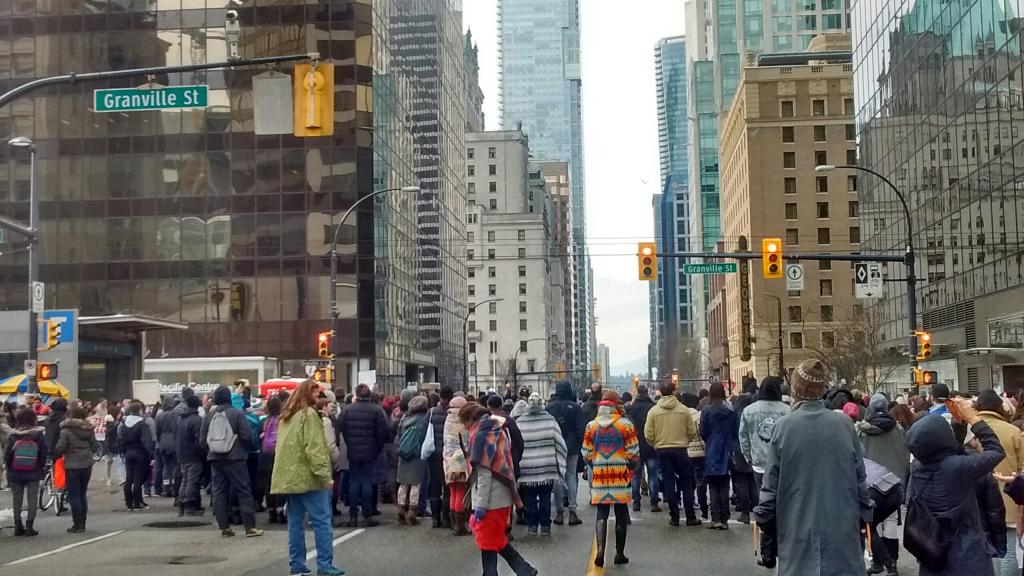 By Jeff Shantz
On August 17 of 2014, the body of 15-year-old Tina Fontaine, an Indigenous girl from Sagkeeng First Nation, was pulled from the Red River in Winnipeg, Manitoba. She had been wrapped in a duvet weighted down by rocks. Intentionally submerged. Her death was a major impetus to the forming of a national inquiry on missing and murdered Indigenous women and girls in Canada.
On Thursday, February 22, 2018, a jury in Winnipeg delivered a not guilty verdict in the trial of 56-year-old Raymond Cormier, the man who admitted to throwing her body in the river. This verdict came only weeks after another infamous decision from Saskatchewan where white farmer Gerald Stanley was declared not guilty of killing Indigenous youth Colten Boushie, despite admitting that he shot the young man in the head.
In response to the verdict, gatherings and marches calling for "Justice for Tina Fontaine" have been held in cities and towns across so-called Canada. A mass rally and march of at least 400 people took place in Vancouver on Saturday, February 24. It was a powerful and moving action with diverse voices, in rage and pain, raised against the criminal injustice systems of the Canadian state.
Love for Tina, Hate for the System
The assembly met in front of the CBC (Canadian Broadcasting Corporation) building in downtown Vancouver because the national broadcaster's initial reporting on the trial emphasized that Tina Fontaine had drugs in her system, a case of victim shaming. The focus was not on her killer admitting to throwing her in the river. The focus was not on the failings of the child welfare system that let her down so fatally.
From the CBC the group marched, first to Granville and Georgia where the intersection was taken and traffic blocked for an hour or so. From there the march went to Howe and Robson where the intersection was also taken and held. The march ended at the Law Courts where there was a candlelight vigil for Tina Fontaine.
Speakers throughout stressed the injustice of colonial justice systems. Co-organizer Tawahum Justin Bige, a Kwantlen Polytechnic University student and poet, asked why Indigenous people have to go through a court system that banned Indigenous peoples own governance and justice practices. It was pointed out by several speakers that the Indian Act is a racist piece of legislation that provided a model for the Nazis and their racist programs.
The killing of Tina Fontaine goes well beyond the horrible, vicious act that directly took her life, but is located throughout the entire colonial criminal justice system and child welfare system in Manitoba and Canada. These are themselves murderous systems over the history of colonial occupation. As many have said: "The whole damn system is guilty as hell."
Sii-amlouet Hamilton said, poignantly, that she always feels hunted here (in Canada). And she emphasized that the police are a large source of that feeling. She made it clear that the police are not on her side, not on the side of Indigenous people. She told the gathering that she always feels in danger with police present. She concluded by saying that she does not like being at events like this because it always means another woman or girl has gone missing or been killed.
She put out a call for people to start asking questions. The cops are not going to help, and will likely hurt. So we need to do the work that needs to be done to protect ourselves and our communities.
It was noted, quite importantly, that the colonial courts have made, and continue to make, millions and millions of dollars on processing the bodies of Indigenous people. As I have argued, without processing poor and oppressed people, and the flow of public money generated by this, the criminal justice system in Canada would collapse. Generations have been processed through the system. They are not in conflict with the law, the law are in conflict with them.
Kanahus Manuel spoke powerfully. In her words: "I want to say to Canada that we are done with you." She said that as the grandmothers and mothers of collective Indigenous communities, "We must turn our backs on the system and build something more beautiful than Canada has ever had."
People made clear that it will take community, together, to protect the children. Family and community need to "surround the children" as one speaker put it. Indigenous governance must be restored as part of protecting the children.
JB the First Lady affirmed the call that it is "time to do our way." Indigenous people have tried the settler protocol. In her words: "We have the solutions and yet they don't fucking listen." Indigenous people have traditional ways of governance. In her view the two row wampum worked, now "get out of my canoe [to the colonial state]." She noted that the United States government took traditional ways of governance (the Iroquois Confederacy) but distorted it by forgetting the clan mothers and forcing it into a patriarchal system.
Several speakers stressed the need for solid allyship. And it was said repeatedly how good it was to see allies turn up. One ally, Cicely Belle-Blain, a co-founder of Black Lives Matter Vancouver, noted that the injustices on colonized land are multifaceted.
While analysis and commentary laid out the injustices and violence of the colonial system the message of speakers was love for Tina Fontaine and her family. A foundation of love and solidarity against systems of callous brutality.
There is No Justice on Stolen Indigenous Land
It was emphasized that the land question must be dealt with all over so-called North America. Several people connected colonial violence against the land with colonial violence against women. Speakers reminded the assembly that Indigenous women began disappearing as soon as the colonizers arrived. Kanahus Manuel pointed out that the Hudson's Bay Company took Indigenous girls and women. Defiantly she said: "How dare Canada?" Now governments want to bring more men from outside into their territories—and more women will go missing. Defending the land is the work of stopping women from going missing.
Carol Martin told the crowd: "When they destroy the women, they destroy the family and the community." The system knows this. One speaker noted that it is not a coincidence that herb gatherers and knowledge women were called witches and treated like monsters.
Related to this directly was a call to drop the charges against those standing up against Kinder Morgan. It was pointed out that it is a waste of public money paying cops to protect a pipeline company. And again it was stressed that we need personal protection plans to protect our communities and families. Not cops.
This was a strong and reflective, angry and loving gathering. The messages were clear. As Manuel said: We never destroyed our land, never contaminated our water. Canada, 150 years, we're done with you." Or as JB the First Lady proclaimed: "I am the Indian problem. And watch out!"
And as the verdicts in the Stanley trial and the Cormier trial show: "There is no justice on stolen Indigenous land."